Clinch County's local hospital partners with Retaaza to launch mobile food market
Lily James
December 12, 2022
Clinch County's local hospital partners with Retaaza to launch mobile food market
HOMERVILLE, GA., December 13, 2022 − Clinch Memorial Hospital and Retaaza have received a Healthy Food Financing Initiative Grant from the USDA's partnership with the Reinvestment Fund to purchase, equip and operate a self-select mobile food market. The mobile market will begin making its rounds throughout Clinch County in early 2023.
The mobile market aims to make food more accessible in underserved and high-need areas where families with limited financial and transportation resources may not be able to access food through traditional grocery stores. The retrofitted van will be stocked with locally grown produce sourced from Georgia farmers and will be available at low or no cost. A schedule will soon be published with the hours of operations and location of each market.
With the resources Retaaza brings to the 'table' and CMH's mission to promote wellness throughout the county, the two entities are ready to meet the needs of this community that suffers from increased rates of diabetes and food insecurity.
"We are so incredibly grateful to receive the funding from the HFFI grant to make this longtime dream come to fruition," said CMH CEO, Angela Ammons. "As this community's healthcare provider, it is our responsibility to ensure the citizens have adequate resources for healthcare and a healthy lifestyle. 21% of Clinch County residents experience food insecurity, and that is 21% too many. As we strive to decrease that percentage, the CMH team and I are excited to partner with Retaaza to begin distributing this fresh, healthy and delicious produce to the community very soon!"
The mobile food market was born out of CMH's partnership with Retaaza amid the COVID-19 pandemic. By recognizing the struggles farmers faced throughout 2020 with excess produce, Ammons sought ways to integrate Georgia grown produce in the hospital's cafeteria. While learning more ways to support Georgia's farmers, she was introduced to Retaaza Founder and CEO, Kashi Sehgal. Retaaza is a social enterprise that strives to make local food more accessible and affordable. Soon after their meeting, CMH began utilizing Retaaza's Corporate Wellness service. The service provides CMH with fresh, local food for its employees as an employee benefit, promoting health and wellness all while supporting local farmers.
"Retaaza's mission is to prevent wasted food at the farm level, while also bringing farmers greater economic stability through paying them for this food they would otherwise dump or donate," said Sehgal. "We strive to make the process easier for all parties involved, including the farmer and consumer. This program and partnership allows us to refresh traditional direct to consumer food system supply chains."
In January, Clinch Memorial Hospital plans to host a Kick Off event with the mobile market at its facility. The community will be invited to tour the mobile market and enjoy the fresh produce.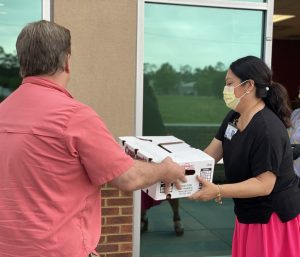 The above photo is Angela Ammons distributing fresh food boxes that CMH donated to its employees in 2020. The fresh produce was from Moore Farms of Manor, GA.